How To Order
Step 1: (LOG IN)
Click Login / Register to log in or create an account on www.hutzfashion.com.
Once you have successfully created an account on the site, you're ready to start shopping with ease of mind!
Step 2: (ADD TO CART)
To make a purchase, simply click into your selected item and ADD TO CART. Do ensure that the correct size/color are selected as no changes will be allowed upon check out.
You will then be able to see on the top right corner that the item has been added to your cart.
When you have completed browsing the site and ready to check out, simply click on "CHECKOUT"
Step 3: (CHECKOUT)
1. Fill in your billing & delivery details accordingly, ensuring that all fills are entered correctly.
2. Select the delivery method you preferred, add an order comment if you have any.
3. - If you have a discount code, enter your code under the "enter your coupon here" component found below TOTAL. (only one discount code can be used)
- If you have a gift voucher, enter your code under the "enter your gift voucher here" component found below TOTAL. (only one gift voucher can be used)
4. Click CONTINUE, then CONFIRM ORDER.
Step 4: (PAYMENT)

We accept Visa debit/credit cards, MasterCard debit/credit cards, Online Banking via all major local banks, including eWallets eg: Touch 'n Go eWallet, Boost, GrabPay & more...!
Your details are safe with us as we take security very seriously indeed.
Upon checking out your order, you will be directed to iPay88 payment gateway payment page.
Kindly make payment immediately via the iPay88 popup page to secure your order.
All orders will be automatically deemed as void if you leave the iPay88 popup page.
Please do not click "back", cancel or refresh at any point as it will mean payments are not synced on our server, and your order may be cancelled.
Payments made via iPay88 are verified automatically by iPay88.

Please note that by adding item(s) into your cart, it does not signify you have successfully purchased the item(s). Item(s) is only secured upon submission of payment.
How to make payment with your eWallet?
You may select your desired payment method when you enter iPay88's payment gateway after you proceed with CONFIRM ORDER.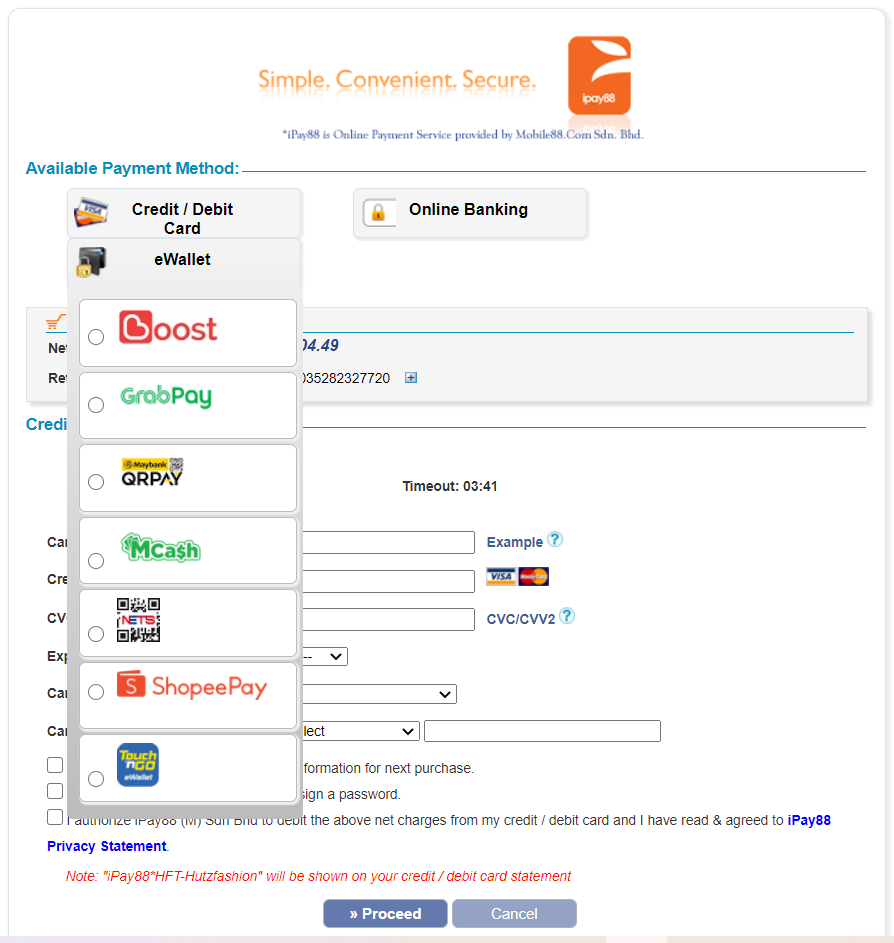 You will receive an email notification in your email inbox once you have completed your payment. All payments are verified automatically by iPay88.

Please contact us if you do not receive any email after payment is made successfully. (check your junk/spam mail and mark as not spam)
Thereafter, you will receive a delivery email in 1-3 working days when the order is ready to ship.
If you have any clarifications, kindly email us at sales@hutzfashion.com. Or reach out to us at FB/IG: @
hutzfashion
.